Are you tired of finding solutions to your health problems? Imagine you have been living with these beautiful green plants as neighbors, cutting them every week, thinking they were a nuisance, or walking past them in the garden section of your local store each day for years. Then, discover this miraculous ancient medicinal plant called longevity spinach or longevity green or Gynura procumbens, used in different countries to treat various diseases. What is Longevity Spinach good for? You may ask. In this article, you'll find the answers and health benefits of longevity spinach, how to grow longevity spinach, where to buy longevity spinach, and other important, valuable information about longevity green.
What is longevity Spinach?
Gynura procumbens is a common medicinal plant known as "Longevity spinach" or "Longevity green." The plant is small and grows about 20m long and 10cm wide hence; it is easy to plant in your garden or planter inside your house. It has a fleshy stem and oval-shaped leaves, which are safe to eat. The need for this medicinal plant, Longevity spinach, in the United States has increased in recent years. Longevity green is abundant and is well known in southeast Asia, such as China, Malaysia, Thailand, Indonesia and Vietnam, and Africa.
Characteristics of Longevity Spinach Leaves
Below are some characteristics of Longevity spinach.
It has a height of 30 to 40 cm
It has a standing stem
Consist of stems that are short, soft, rectangular, cross-sectional, and haired on the outside
The leaves grow up to 20 cm long and about 10 cm wide.
Leaves are Oval-shaped, fluffy, pointed leaf tips.
The edges of the leaves are purplish green
It has a short petiole
It has a compound flower growing on the tip of the stem, green flower-shaped petals, with yellow needle-shaped stamens.
Stem cuttings and tubers can breed it.
What is Longevity Spinach Good For?
1.        As an anticoagulant: It helps dilute blood clots, stimulate blood circulation, and stop bleeding.
2.      As a diuretic agent: It helps to remove urine.
3.      As an anti-toxin: Used to detoxify the body from harmful toxic materials.
4.      As an anti-cholesterol: Helpful to control cholesterol in the blood.
5.      As an antipyretic: You can take Longevity spinach to lower high body temperature or fever.
6.      As a hypotensive: Longevity green is helpful to lower high blood pressure
7.      As a hypoglycemic agent: Longevity spinach may be used to lower high blood sugar levels.
8.      As an anti-inflammatory agent: Used to reduce inflammation, especially in rheumatoid arthritis.
9.      As an analgesic: To relieve pain.
10.   As an antihyperlipidemic: For lowering cholesterol and triglycerides.
11.     As an anti-bacterial agent, it may kill and prevent bacterial infection and spread.
12.   As an anticancer agent: Longevity spinach contains antioxidants that help slow down cancer cell growth.
Health Benefits of Longevity Spinach
Studies have shown that Gynura procumbens, or 'longevity spinach,' has many health benefits for natural and home remedies to treat or manage disease conditions. Some common disease conditions you can use Longevity spinach are listed below.
Diabetes Management
Treatment of infertility
Stroke Management
Treatment of Rheumatoid Arthritis
Management of High Blood pressure
Treatment of Herpes
Cancer Management
Treatment of cough
Treatment of bleeding/ Swelling of the breast
Treatment of wound
Treatment of heartache
Treatment of animal/insect bites
Treatment of the menstrual disorder
Treatment of dengue fever
Treatment of ganglion
Treatment of seizure
Treatment of skin problems
Treatment of sprain
Treatment of hemorrhoids
1. It May help to treat diabetes
Diabetes is a disease that affects how your body processes blood sugar. This is important because blood sugar fuels your brain and gives your muscles and tissues energy. The condition occurs when sugar levels in your blood exceed their recommended limit. You should know the signs and symptoms of diabetes and treat your diabetes promptly to prevent diabetes complications.
One research study gives an intriguing finding on the longevity of spinach and its specificity in inducing low blood sugar effects in diabetic animals. It has been shown to cause a significant decrease in fasting blood glucose levels and suppression of glucose elevation during glucose tolerance tests in diabetic rats but not normal rats.
How to use longevity spinach
You can drink the potion from the stew of Longevity spinach leaves regularly once per day.
2. It May help to improve sexual function and enhance fertility
Aside from the natural treatment of diabetes, research on longevity spinach has also explored its potential in treating infertility, which is one of the complications of diabetes. Overall, studies suggest that longevity spinach may improve the reproductive function of infertile diabetic males, mainly through an increase in sperm counts, quality, and motility.
3. It May help to treat stroke
Stroke is a health problem that occurs because of damage to tissue in the brain – arterial blood vessels in charge of blood flow to the brain—knowing the signs of stroke to prevent it from causing damage to your brain or other health problems. This problem must stop as soon as possible to avoid further damage to other parts of your body.
How to use longevity spinach
The health benefits of Longevity spinach leaves can be an alternative medicine to help treat stroke. You can help prevent this by drinking an herbal potion made of blowing crop tubers from longevity spinach leaves mixed with a few ginkgo seeds and some honey. Or you can also try to drink the brew from the stew of Longevity spinach leaves regularly twice a day.
4. It May help to treat rheumatism
Rheumatism is a health disorder that affects your bone joints. To prevent rheumatism from occurring, you should eat a diet that contains plenty of complex carbohydrates, protein at a moderate level, and low fat.
How to use longevity spinach
To treat rheumatism with longevity spinach leaves, you can do these steps. You may drink the potion from the stew of longevity spinach leaves, or you can drink the brew from the hubbub of longevity spinach leaves mixed with red ginger and the root of Vernonia cinerea.
5. It May help to treat high blood pressure
Hypertension, also known as high blood pressure, is an acute disease that can cause several health problems. It is a crucial risk factor for several heart diseases, including coronary vascular disease and stroke. Over the past few years, significant effort has been made to explore medicinal plants with antihypertensive therapeutic effects, including the Longevity spinach.
Several results from studies report longevity spinach significantly lowering systolic blood pressure and mean arterial pressure in the laboratory using rats with high blood pressure, well as a significant decrease in heart rate, strong negative chronotropic, and negative inotropic effects at rats' right atrium and left atrium, respectively.
How to use longevity spinach
You may consume the leaves to reduce blood pressure by drinking the potion from the stew of longevity spinach leaves regularly twice per day after eating, or you can make it into a salad and eat it.
6. It May help to treat herpes
Warts are also known as papillomas; they are benign tumors on the skin caused by excessive thickening of the outer layer of the skin. A study showed that longevity spinach consists of effective compounds for treating herpes.
How to use longevity spinach
A natural way to treat herpes with longevity spinach is by cutting a few leaves of longevity spinach leaves and attaching them to warts with tape.
7.     May help in cancer treatment
Longevity spinach (G. procumbens) has long been used as a traditional treatment for leukemia, uterine, and breast cancers. However, this discovery has led to several kinds of research on the anticancer benefits of longevity spinach. Based on the reported studies, longevity spinach (G. procumbens) is an effective chemotherapeutic agent against a wide range of cancer cell types. It exerts its anticancer activities by targeting various stages of cancer development, including cancer initiation, cell proliferation, metastasis, and angiogenesis.
8. It May help to treat Cough and Vomiting Blood
Respiratory diseases, such as cough, are often shared and typical symptoms of some cough illnesses. But it would be best if you were more concerned when you cough with blood in it. This can signal a severe disruption to your health. To overcome this, you can utilize the medicinal benefits of longevity spinach to treat this sickness.
How to use longevity spinach
The trick is to drink a portion from the stew of the leaves as much as three times daily and routinely take a half cup. It can also help stop bleeding during pregnancy.
9. It May help to treat Bleeding or Swelling of the Breast
If you have this problem, you may experience a painful sensation in your breast. Factors that can result in bleeding and swelling in your breast include puberty, pregnancy, menopause, and others.
How to use longevity spinach
A way to treat it with Longevity spinach leaves is simple; you can drink a portion from the stew of longevity spinach leaves, as much as a half glass once daily.
10. It May help to treat Wounds
Mash the leaves of longevity spinach and mix them with some red sugar to treat wounds, burns, and others.
How to use longevity spinach
Apply the mashed leaves to the affected part and tie it with a clean cloth or bandage. In addition, this plant is also effective in the treatment of bruises. The steps are to mix some mashed leaves of longevity spinach with some leaves of castor bean plants and place them on the bruises.
11. It May help to treat heartache
When blood flow to the heart stops for just a few seconds, it can lead to heartache. Heartache can lead to death. Some factors that can lead to suffering are
Smoking
Alcohol
Obesity
Lack of rest
Less exercise
How to use longevity spinach
A natural way to reduce the risk of heartache is by regularly drinking potions made of mashed-up crop tubers of longevity spinach and boiling it with water. You can drink this at noon.
12. It May help to treat bites from insects or wild animals
If you get bitten by a wild animal or insects while camping or touring, do not panic. You can take a few pieces of the longevity spinach leaves, crush them and place them on the bite wound or affected part. Make sure to use bandages to tie it in place.
13. It May help to Manage menstrual disorders
Irregular menstrual cycles are a severe problem amongst women before they reach menopause. However, one of the benefits of longevity is that spinach leaves help to overcome this disorder.
How to use longevity spinach
To treat a menstrual disorder, drink a portion from the stew or mash up the leaf of longevity spinach leaves mixed with a bit of arrack that has been heated daily.
14. It May help to treat dengue fever
Dengue fever is a contagious disease caused by a virus called dengue. The condition can be transmitted through mosquito bites from Aedes aegypti. This disease leads to death if not promptly treated. The symptoms of dengue fever typically begin three to fourteen days after infection. Examples of its signs include a high fever, headache, vomiting, muscle joint pains, and a characteristic skin rash.
How to use longevity spinach
To treat dengue fever, drink a portion of the stew of longevity spinach leaves twice a day.
15. It May help to treat ganglion
Ganglions are small cysts filled with fluid that often appear as bumps on the hands and wrists. They can also occur on the feet, ankles, knees, or shoulders.
A ganglion can grow out of a joint site, areas around the joint, a tendon, or the fibers connecting muscle to bone.
How to use longevity spinach
You can treat ganglion naturally by eating longevity spinach leaves every day. For example, you can use it as a salad.
16. It May help to treat seizures in children
If your child has a high fever, she may experience an episode of seizure. This situation can cause you to panic.
How to use longevity spinach
For first aid, mash up the stem of the longevity spinach leaves with water and give it to the child to drink.
17. It May help to treat skin problems
Black spots are a skin problem, especially for women, because they can affect their appearance and cause low self-confidence.
How to use longevity spinach
You can make longevity spinach for blackspots, skin ulcers, and other skin problems by squeezing the leaves and applying a smear on the affected part of the spots.
18. May help to treat Sprains
A sprain may happen, especially if you are active in exercising or doing a lot of physical activity. Ways you can treat a sprain include massage or drugs. However, another option you can use to treat sprains naturally is drinking portions from the stew of longevity spinach leaves twice a day.
19. Longevity spinach may help with hemorrhoids
Excellent medicinal uses of the longevity spinach leaves are in treating hemorrhoids.
How to use longevity spinach
To treat hemorrhoids with longevity spinach leaves, drink a potion from the stew of longevity spinach leaves mixed with aloe vera and a little honey.
But if your hemorrhoids are worse, you can take some leaves of longevity spinach, then squeeze to remove the sap and insert them into your anus.
Nutrient Contents of Longevity Spinach Leaves
The nutrient content and some chemical properties present in the leaves of longevity spinach are listed below.
Saponins
Oil astir
Flavonoids
Tannin
Vanilla
Polyphenols
Hydrochloric acid
Acid p-hydroxybenzoate
Alkaloids
Triterpenoids
Sterol
Vitamin K
Longevity Spinach Smoothie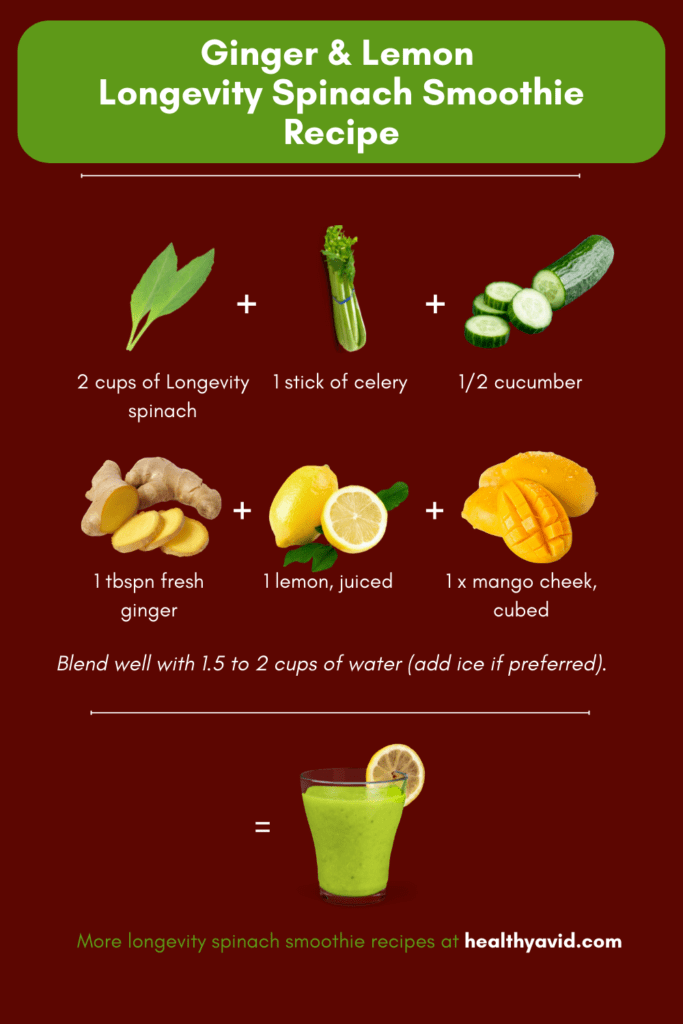 Infographic: Health Benefits of Longevity Spinach
Longevity green can be an inseparable part of your diet. Longevity spinach is a green veggie loaded with many helpful nutrients. Including it as a part of your diet offers substantial health benefits.
Learn about the essential health benefits of longevity spinach from the infographic below and share with your friends about this medicinal plant that will also help them.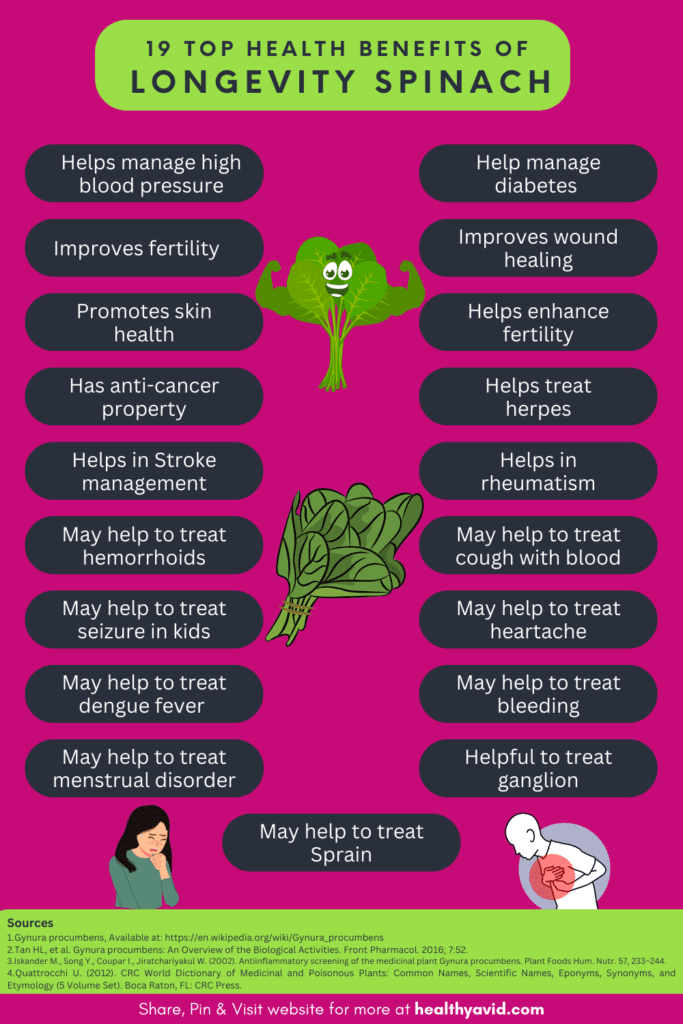 FAQ: Health Benefits of Longevity Spinach
How much longevity spinach can you eat a day?
The quantity of longevity spinach consumed depends on you and your health condition. Taking one or two longevity spinach a day could be a good start.
Where to buy Longevity Spinach
You can buy longevity spinach seeds, plants, personal care, and powder from your local store or online (Amazon).
Is Longevity Spinach Safe to eat?
The leaves and stem of spinach are safe to consume in limited quantities; you should try drinking a small amount of the leaf to see if you may have an allergy.
You should consult your doctor before adding this medicinal plant to your diet, especially if you have a health condition or are on other medications.
What products can I find for Longevity Spinach?
Longevity spinach is used in herbal medicine to treat various diseases and skin problems. The Gynura procumbens is available in different product formulations, such as
Kimchi
Coffee
Candy
Chewing gum
Hand-wash solution
Hand sanitizer
Oral spray
Facial sanitizer
Facial masks
How does Longevity Spinach taste like?
Longevity spinach tastes like green spinach when you eat the fresh leaves.
How to Care for Longevity Spinach Plant
It is simple to grow longevity spinach plants. To care for young longevity green plants, harvest the leaves when they are ready, and the plant will not spread beyond where it is planted.
You should also take note of the color of the leaves; if the leaves are turning yellow, it's a sign of nitrogen deficiency, and you can add nitrogen-rich fertilizer such as a quality organic fertilizer. Fertilize every three to four months as the plant starts growing well again.
Wrapping Up
Longevity spinach has many benefits for your health. Besides its use as an ingredient in special diets for patients with health conditions such as liver and heart disease, it is available in different forms you can use.
You should always consult your doctor before adding it to your diet if you take other medications to avoid drug interactions and allergic reactions.
References
Gynura procumbens, Available at: https://en.wikipedia.org/wiki/Gynura_procumbens
Tan HL, et al. Gynura procumbens: An Overview of the Biological Activities. Front Pharmacol. 2016; 7:52.
Iskander M., Song Y., Coupar I., Jiratchariyakul W. (2002). Anti-inflammatory screening of the medicinal plant Gynura procumbens. Plant Foods Hum. Nutr.57, 233–244.
Quattrocchi U. (2012). CRC World Dictionary of Medicinal and Poisonous Plants: Common Names, Scientific Names, Eponyms, Synonyms, and Etymology (5 Volume Set).Boca Raton, FL: CRC Press.